Stay In Touch with
Horse Talk
If you enjoy this way of life – working around and with horses…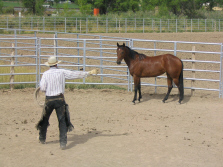 …or if you'd simply love to learn more about them, please subscribe to Horse Talk.
We believe this to be more than just training or teaching. We believe it to be truly a way of life. After a lifetime of learning, the more I know about horses, the more I realize there is to know. Hopefully, you'll come to realize that the whole thing revolves around changing us and our perception of the horse.
So we'll be updating and growing this site with more and more information and our experiences with all things horses. Please subscribe to our Free monthly e-zine so you don't miss a thing.