Horse Training
There are a lot of horse training methods out there. Some of them make sense and some don't. It's my opinion that the horsemanship and training taught by the late Tom Dorrance and his brother Bill Dorrance was the greatest thing to ever come along, for equine as well as for people. Their legacy is continued by such greats as Ray Hunt, Bryan Nuebert, Joe Walter, and Buck Brannaman. What Tom and Bill started is truly revolutionary.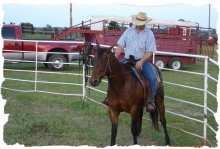 You will find on the links below, various techniques that I have learned and would use on any equine whether it be a colt or a 10 year old mule. The trail to training is truly a lifelong learning experience. It is our hope that we can help you any way we can in this journey.
---
General horse trainig tips and pointers (IMPORTANT)
Trail riding and Playday tips
Branding and Gathering tips


---
Basic training and foundation work.
These are somethings that I personally want going well before I ever crawl on a horse back.


Soft Feel
Preserving Natural Softness
Haltering and Bridling
Flexing and Bending
Leading Up Free
Getting the Hindquarters


---
Fence work


When I say fence work, there might be a lot of different things come to mind. What I'm talking about is things that you can do with your horse from up on top of the fence to help him out. You can really build a lot of confidence into him really quick – especially a colt that has not been ridden yet. By working at a few things up there, you can help him get used to a variety of issues before you ever get on his back.

Get your horse used to Movement from the fence
Flagging your horse from the fence.
Roping around your horse from the fence.
Getting on your horse from the fence.
Variations on fence work with horses.

---
Other Training

Trailer Loading a Horse

Please feel free to contact us with any questions or comments about horse training.


The horse will tell us what we need to do to work with him if we only listen, understand, and feel as the horse does. – Peter Campbell