About us: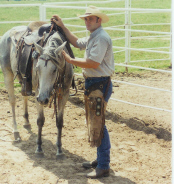 My name is Rick Hollenbeck , and for a while now, my wife, Kara and I have wanted and looked for a way to help horse people with their horses. We both realized early on, even if you dedicated a lifetime to the pursuit of the horse, there would never be enough time to learn all that there is. We decided to open this website to help people learn more about their horses and themselves. It is our goal to share what we have learned on our own and from others – where people can come together across the disciplines as well as breeds and types of horses.
A little about us -- We met at a horse training facility in Oklahoma, where I was an assistant trainer. Kara brought us a colt (Tiger) to be started. Long story short, we hit it off (Thanks Tiger!)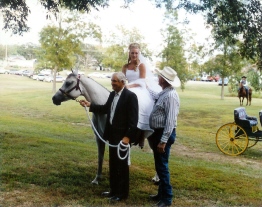 And here we are, nine years later. In that time we have been blessed with three wonderful sons.
We are located near Bristow Oklahoma, about 40 miles west of Tulsa.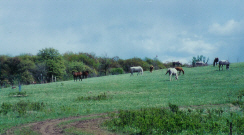 We decided at horsetrue.com to address a variety of horse topics. I mean, face it… there are lots of colt starting clinicians out there. Which is great, but…what about when you get the horse home. There are so many other issues – from pasturing, worming schedules, balanced riding to building a functional barn. We bring to the table ideas and information from various horse disciplines – dressage, barrel racing, cutting to handling cattle horseback etc… It is our hope to help and assist in whatever way (large or small) those who are on the same life road that we are. For more info on us click Ricks story or Karas Story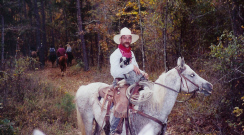 …I am trying to bring out that the horse is really, really something special in his own uniqueness. I'm trying to stress the importance of the horse….. Tom Dorrance 1910-2003