Preserving Natural Softness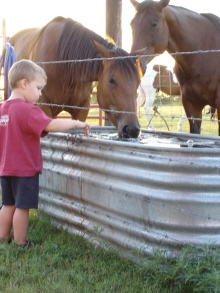 Preserving natural softness in the horse is our responsibility. When on their own, horses operate in this area of softness (most of the time.) That is to say that the horse is naturally going to be mellow or soft when we are not in the picture. When we are in there, we need to keep things quiet and calm, trying to stay a long way away from confusion or frustration. Frustration on our part or the horses isn't productive. When this happens, it's time to start over. Take a break – clear your head, then take a fresh start. This picture shows a mellow feel in these horses while on their own. Below are some examples of natural softness in horses when dealing with people.


---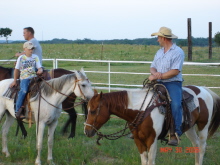 Notice the paints expression here. He's quiet, relaxed and generally mellow. This mellow feel shows all the way through the horse and directly impacts what we're doing. If we can maintain this softness, there's a lot of learning that can take place.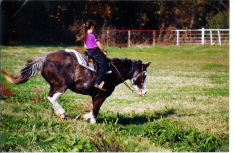 There's a mellow feel to this picture. My niece is just going along right with this old horse, and things look really good. She has a good seat in the saddle, she's relaxed and things are as they should be. (I don't like this type of bit at all, especially in a child's horse)
When we can preserve this in our horses, there's so much good that can happen. Remember it's not a matter of if there will be confusion of frustration (on the horses part or ours) but when. This is where talking a break and starting over will have real value to you. I wish I had gotten on to this principle a lot earlier in life. It has a lot of meaning, not only in our dealing with horses, but people as well. There are times we all need a chance to start over. You'll find the horse to be a most forgiving creature. We could all learn a lot from this to.
Please contact us with questions or comments about preserving natural softness.
Return to Training page
Return to horsetrue Home